Dr. Vera Rubin deserves her name on new telescope designed to study dark matter
This is a great and fitting opportunity to honor her scientific contributions
Illustration by Daniela Sherer
Last month, Chairwoman Eddie Bernice Johnson (D-TX) and Congresswoman Jenniffer González-Colón (R-PR) introduced H.R. 3196, the "Vera Rubin Survey Telescope Designation Act" in the House Committee on Science, Space, and Technology. H.R. 3196 would rename the Large Synoptic Survey Telescope (LSST) on Cerro Pachon in Chile to the Vera Rubin Survey Telescope.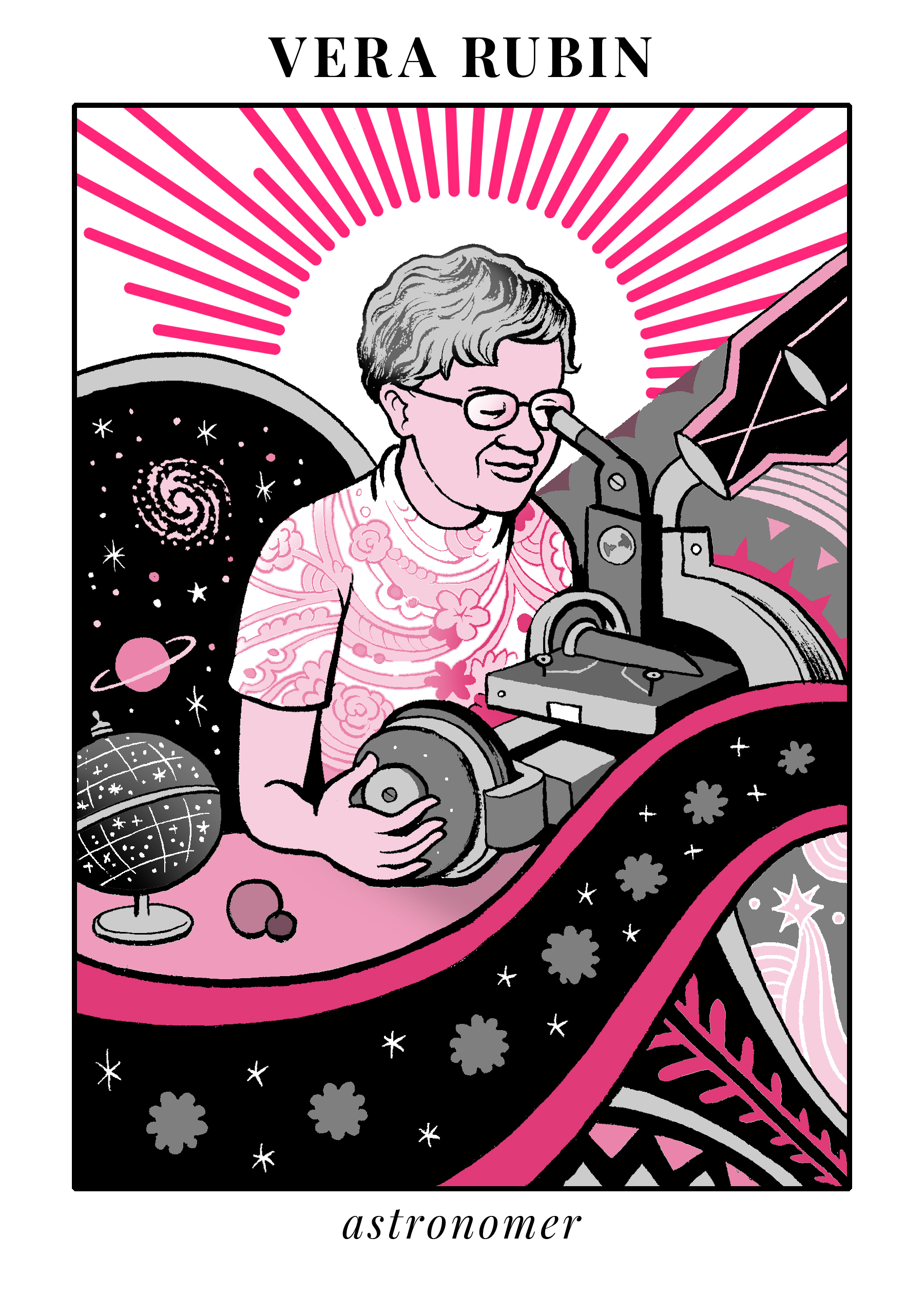 Rubin was one of Massive's first Science Heroes. According to Kepler's laws, bodies that orbit close to massive objects move faster than those that are further away. So, Mercury orbits the Sun at a higher speed than Jupiter. But when Rubin measured the speed of stars orbiting at the edges of galaxies, she saw that they were moving just as fast as stars near the center. But if we add up all the mass that we can see in a galaxy, it's not enough to explain the high speeds. She surmised that there must be mass we cannot see - dark matter - driving this motion.
In the 40 years since Rubin's discovery, astronomers and physicists have come up with many clever ways to try to understand dark matter, but we're still no closer to knowing what it is. The LSST will use a more traditional approach. It's 8.4-meter (27.6-foot) mirror can take images of the entire night sky. Over a 10-year period, the telescope will map galaxies across both time and space, measure their masses, and uncover how the extra mass from dark matter bends space.
Rubin's perseverance and dedication to scientific pursuit revealed one of the cosmos' greatest mysteries. She deserves to have this telescope named for her, especially since she passed before she could be awarded a Nobel Prize.