Vegan gut bacteria swim more than their carnivorous counterparts
Gut bacteria from those on plant-based diets may be better at swimming to nutrients
The first decade or so of gut microbiome research was largely defined by "community composition profiling," essentially asking the question, "What types of bacteria are present in this sample?" More recently, there has been a really exciting shift in the field from asking who is there to asking what they are doing.
A recent study explored how diet affect the activity of gut microbes. To do this, the researchers analyzed stool samples from 61 volunteers who had been following either a vegetarian, vegan, or omnivorous diet for at least one year. The researchers tracked the bacterial genes and proteins found in each sample. Tracking certain genes and proteins was important. Scanning the genes asked, "What are these microbes able to do?" Scanning the proteins asked, "What are they actually doing in this moment?"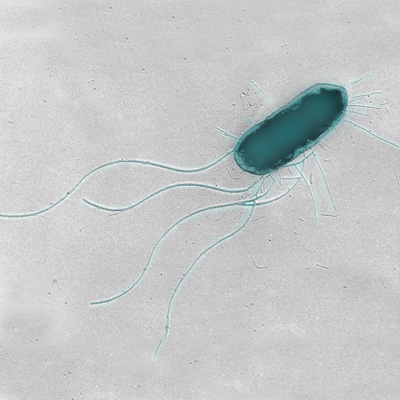 Those on vegetarian and vegan diets tended to have the most genes and proteins related to cell motility — the cell's capacity to move around. More broadly, the researchers found that dietary fiber intake was correlated with the amount of flagellin, a type of protein used to make the tail-like flagella, an essential bacterial appendage for swimming. The authors speculate that this increased cell motility is a mechanism for bacteria to more easily move around in order to access nutrients.
Vegetarian and vegan microbiomes also had more genes and proteins related to breaking down carbs and protein, and building up vitamins and amino acids. It makes sense that people eating a greater diversity of plants would have a greater diversity of microbial genes for breaking down different carbohydrate sources.
And that's not totally surprising. A 2014 study found changes in microbiomes of participants who ate plant-based or animal-based diets for only five days. Still, the present study adds to our understanding of the precise types of changes that can occur from being on a specific diet-long term.