Decades-old theory on how ears work is wrong
After 30 years, scientists still don't know how the ear tells the brain what it is hearing
? When noise is produced, sound waves travel through the air and reach our inner ear, causing a mechanical perturbation in specialized rod-shaped cells — known as . These auditory receptor cells transform the mechanical force from the sound waves into an electrical signal sent to our brains, which then reads it as sound.
But how does this mechano-electric transduction work? Auditory scientists have long believed that this signal transduction occurs through two processes. One is the opening of pore-like channels on the surface of cells that allow ions to enter. The other process, a "motor model," involves the movement of a fiber-like protein known as myosin. This protein connects the upper sides of each hair cell in the bundle, and upon a mechanical stimulus, it slides, slightly pulling the connected hair cells down. Or so it was thought.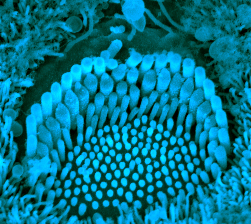 After more than 30 years of research, reported in that the motor model hypothesis was incorrect and, therefore, scientists still do not fully understand the underlying mechanisms by which our auditory cells work.
In brief, the team mechanically perturbated mammalian hair cell bundle samples, taking high-speed videos to test cell movement as hypothesized in the motor model. To resemble perturbations generated by sound, they splashed hair cells with a small stream of water or pushed them down using flexible glass fiber. Video analysis then showed that regardless of the stimulus used — water or glass fiber — the hair cells didn't move during the adaptation process, ruling out the decades-old motor model hypothesis.
Because the adaptation process is considered a critical factor in the high sensitivity and range of the mammalian auditory system, the authors foresee that their findings will lead to future technological improvements in sound processing and treatment of hearing loss.