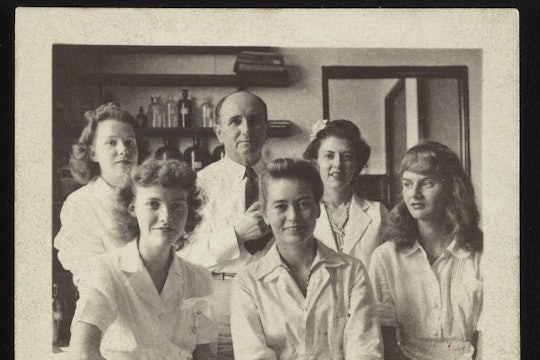 Science History Institute
Can you help identify unnamed women scientists of the past?
Science History Institute is crowdsourcing the identities of scientists snubbed in archive
On March 12th, the Science History Institute, a non-profit located in Philadelphia, uploaded a photo on their Twitter account. Pulled from their digital collection, the black and white photo, most likely from the 1940s, depicts a man and five women wearing lab coats in what appears to be a chemistry lab. Of these six people, only the man has been identified, as Michael Somogyi, then professor of biochemistry at the Washington University and Jewish Hospital of St. Louis, now Barnes Jewish Hospital. The others were only labeled as "female laboratory assistants."
March was International Women's History Month. And 2020 also marks the 100th anniversary of the passage of the 19th Amendment, which granted women in the US the right to vote, albeit only white women. To celebrate, the Institute decided to launch a crowdsourcing campaign to name women scientists whose identities are mystery. The initiative's leaders, Hillary S. Kativa, Chief Curator of Audiovisual & Digital Collections at the Othmer Library of Chemical History, and Rebecca Ortenberg, Social Media Editor of the Science History Institute, are hoping that people would look at the photo and provide leads on who the women scientists could be.
In recent years, there has been a surge of similar initiatives, like Wikipedia Edit-a-thons aimed at increasing the number of Wikipedia articles about women in science. However, the lack of detailed records of women scientists with correct attribution and identification has made this difficult. Even though women were present in scientific settings, they were often not credited for their work. And, because articles such as Wikipedia biographies need credible sources and demonstration of notability, obtaining historical documents and photos is crucial in highlighting women scientists who have been sidelined.
Kativa drew inspiration from a viral story from 2018, where crowdsourcing was used to find the identity of a woman in an old photo from a scientific conference. Candace Jean Andersen, an illustrator, posted a photo of the attendees at the 1971 International Conference on the Biology of Whales on her Twitter account. The caption she found named all 37 men in the photo, except for the lone woman. Andersen's tweet asking for people's help finding the identity of the woman instantly went viral. Through many strangers' efforts, the woman in the photo was identified as Sheila Minor Huff, a museum technician working for the Smithsonian National Museum of Natural History at that time.
Crowdsourcing to discover the previously unknown facts of a person, an object, or an event in old photos is nothing new. Organizations as large as the Library of Congress and CERN have used crowdsourcing to find information on their archived photos and documents. The Newberry, an independent research library in Chicago, has been using crowdsourcing to transcribe documents in their Modern Manuscript Collection since December 2017. As of this writing, almost 65% of the 51,259 pages has been transcribed according to their project website.
Ortenberg said that the Institute's collection has many photographs of women in labs, working for many different kinds of scientific roles. Often, they are "some of the most popular digital collection items," Ortenberg said. She argues that the photos prove that "women have always, or for a very long time, been involved in different kinds of scientific processes and projects," and "because they were often in more junior roles or supportive roles, [women] were not held up, identified, or highlighted."
"The project provides an interesting opportunity to tell stories about who gets documented and whose materials are collected," Kativa said. The photo for the project was archived along with the documents because of the male scientist — Michael Somogyi — in the photo. And because it was about him, not much attention was given to the women scientists in the photo. Kativa said that this is typical of the collection at Science History Institute. It's not that women weren't there. It's that they were hidden. So, she is interested in what unrevealed stories this project can find.
Mar Hicks, a professor and historian of computing and author of the book , agrees that women in science have largely been overlooked. "Women would often be photographed working in machine rooms and in laboratories, but when it came time to write up the results of that work, preserve archives about their contributions and research, or even caption the photographs, their identities were usually not seen as very important. So even though their presence and impact is obvious from photos, it cannot be directly tied to what they actually did in many cases," Hicks said via email. "Their impact on science and technology has been enormous, but too often they are still seen as peripheral and second class instead of being seen as real scientists and workers. Correcting incomplete archives can help fix that."
Even though the initiative hasn't taken off like they were hoping for because of COVID-19 pandemic, Kativa said that just initiating the conversation about "why don't we have the names of these women?" is a success. Although, Kativa already has the next photo for the initiative in mind, just in case if she and Ortenberg decide to do one more round of it: a photo of a woman at the U.S. Department of Agriculture's Fixed Nitrogen Research Laboratory, from the Institute's Travis P. Hignett Collection of Fixed Nitrogen Research Laboratory Photographs. This photo, taken in 1926, is the only one from its collection in which the subject's first name isn't revealed. The female scientist in the photo was only noted as Mrs. M.K. Murray.
For people at home, participating in a crowdsourcing project might be a great way to spend time during the pandemic, as Atlas Obscura suggests.
Still, Hicks generally finds the crowdsourcing initiatives tricky. "As a labor historian, I do not like to see people asked or encouraged to work for free because unpaid labor drags down everyone's worth in the workplace, lowers the GDP, and contributes to the type of silencing that many crowdsourced history projects are, ironically, working to undo."
"In this case, however, casting a wide net to try to find more information on these women is a critical first step," Hicks said. "There will be people who see these photos who may be friends, relatives, or coworkers — or possibly even the women themselves. This provides researchers invaluable resources for trying to undo some of this historical silencing and correct our lopsided understanding of science and technology's past, and its present impacts."